25th Anniversary
BYTE-TECH sells computers, network, parts, and services(All types of laptops and Desktops; repairs, upgrade, maintain, and contract). It has been serving businesses and people as one of the most trusted solution advisors, providers and partners since 1993. It is well known by word of mouth.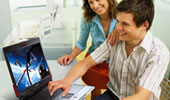 FREE LAPTOP PC (of $1000)
A high-quality laptop M51A-B1 by ASUS ( >$1000,00 ) to be given away as a PRIZE. To win this laptop you MUST register as a web customer by clicking MY ACCOUNT and buy more than $10 worth of merchandise from BYTE-TECH in the past 12 months. We will draw a PRIZE for every 1000 new customers (now ). Tell your friends about it.