27th Anniversary
BYTE-TECH sells computers, network, parts, and services(All types of laptops and Desktops; repairs, upgrade, maintain, and contract). It has been serving businesses and people as one of the most trusted solution advisors, providers and partners since 1993. It is well known by word of mouth.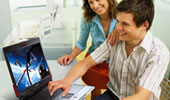 We are online and onsite now.
We closed retail store and go online and onsite services at the pandemic time. If you need new customized computers and parts or fixing your computer problem please call, text and email us. We will discuss all options and meet your needs to maximize your satisfactions. Tell your friends about it.